Design is everything.
A product or feature can be top of the line, but what matters most is that the design is functional and meets your needs. For this reason, you can achieve very satisfying results with our service-oriented approach to home design.
We ask the right questions to find out more about what's important to you and we can help you find solutions that work with your budget. We are a turnkey kitchen design, remodel, contractor, and company in St. Louis.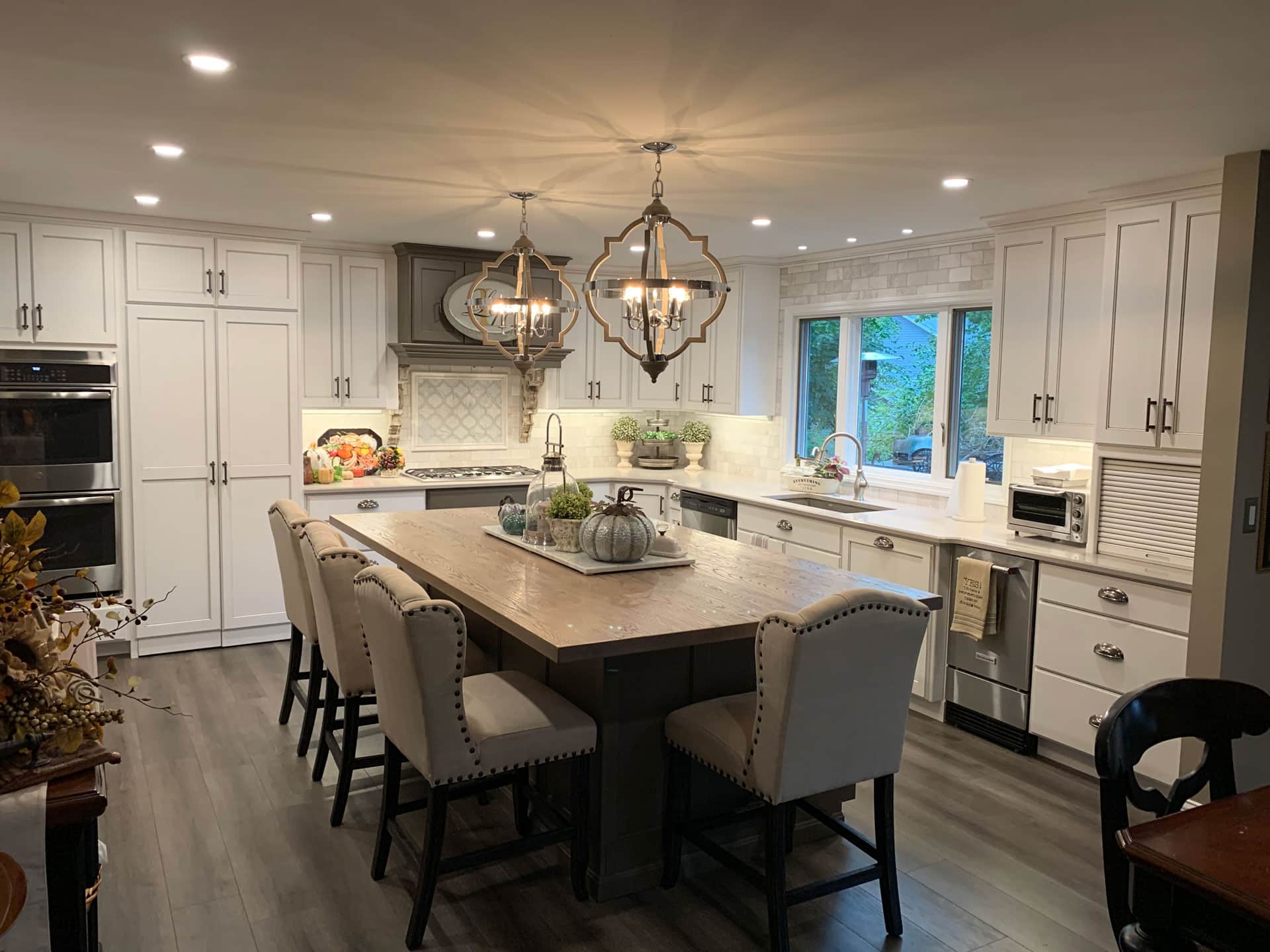 a kitchen with more flavor
It's all about the details.
It's useful to know more than your favorite styles and colors. We may also ask you how tall you are you, whether you are right or left-handed, what kind of cooking is performed in your kitchen, and who likes to cook in your home. The answers to questions like these impact the design of your kitchen.
We believe that your kitchen should be beautiful without sacrificing functionality. Even more, we can use our experience and expertise to customize a kitchen just for you and your family. We tend to notice and suggest things that clients haven't considered that can enhance the design of your kitchen remodel.
For an example of our attention to detail, check out our cabinets without center posts. As a family owned business, we understand the value of a space that suits your family and your lifestyle.
With the questionnaire complete, we consult with you to make your kitchen the true heart of your home, with the right aesthetic, finishes, appliances, and design choices to suit you and your lifestyle.
People often consider counters and cabinets first. When we get to the counters, we can provide everything from budget-conscious choices to high-end luxury finishes. Whatever your needs and desires, we will work with you to find out what countertops work best and look right for you.
We know that kitchen cabinets are one of the first things people notice in a kitchen. Given that this is supposed to be your dream kitchen for lifelong enjoyment, we use a methodical approach to ensure you will love your cabinet choices for years to come. Our house brand cabinets are well-constructed, with solid wood, dovetailed joints, and an efficient use of space. Full-extension, soft-close drawers and doors are standard with every build.
Renovating a kitchen isn't like buying a car! 
Our Design Center is innovative and revolutionary. One of the biggest challenges with a typical showroom is that customers can find an item or style they love, but then it is out of stock or discontinued. With state-of-the-art technology, we will always be able to show you exactly what's available. Kitchen design and remodeling at its best!
Plus, buying a kitchen isn't like buying a car… even if you see a showroom you like; it is virtually impossible to "recreate" that same kitchen in your own home, as every house is very different. With the Design Center, we are able to more accurately show what will work with your particular renovation.
We love designing kitchens.
When planning to remodel your kitchen, we know there are many variables to consider. That's why we rely on our Good, Better, and Best pricing. We give you three options, complete with all of the products and their prices with no surprises. Every option is based on our high standards so you do not need to worry about sacrificing quality for economy. We will be good stewards of your money.
Working with passionate professionals can help your project. Everything we do at Thompson Price is done with customer satisfaction and excitement in mind. As a family-owned business, we are guided by high standards, honest communication, and having fun in the process. We are a different kitchen remodeling company.
We love being able to design kitchens and we want you to be energized and enthusiastic about the process, too. You will get all of that and more when you work with us. Our goal is to make you smile when you walk into your Thompson Price kitchen.
Thompson Price is different because of our proprietary 4P Process, our innovative Design Center and our methodical approach. We are a home renovation company that works with talented people, providing creative, customized options that increase our customers' enjoyment and value of their home. We also expand the capabilities of general contractors and interior designers.
Fill out our online form for a complimentary consultation, and you'll be on your way to a kitchen you'll love.
Design Your Life with Thompson Price
Don't hesitate to get in touch to tell us about your project. Our collaborative design process starts as soon as you reach out to our team. We are headquartered in Chesterfield, MO but serve all St. Louis and St. Charles County. Call us at 314-966-8234 or use our simple online form.
Design Your Life with Thompson Price
Don't hesitate to get in touch to tell us about your project. Our collaborative design process starts as soon as you reach out to our team. Call us at 314-966-8234 or use our simple online form.